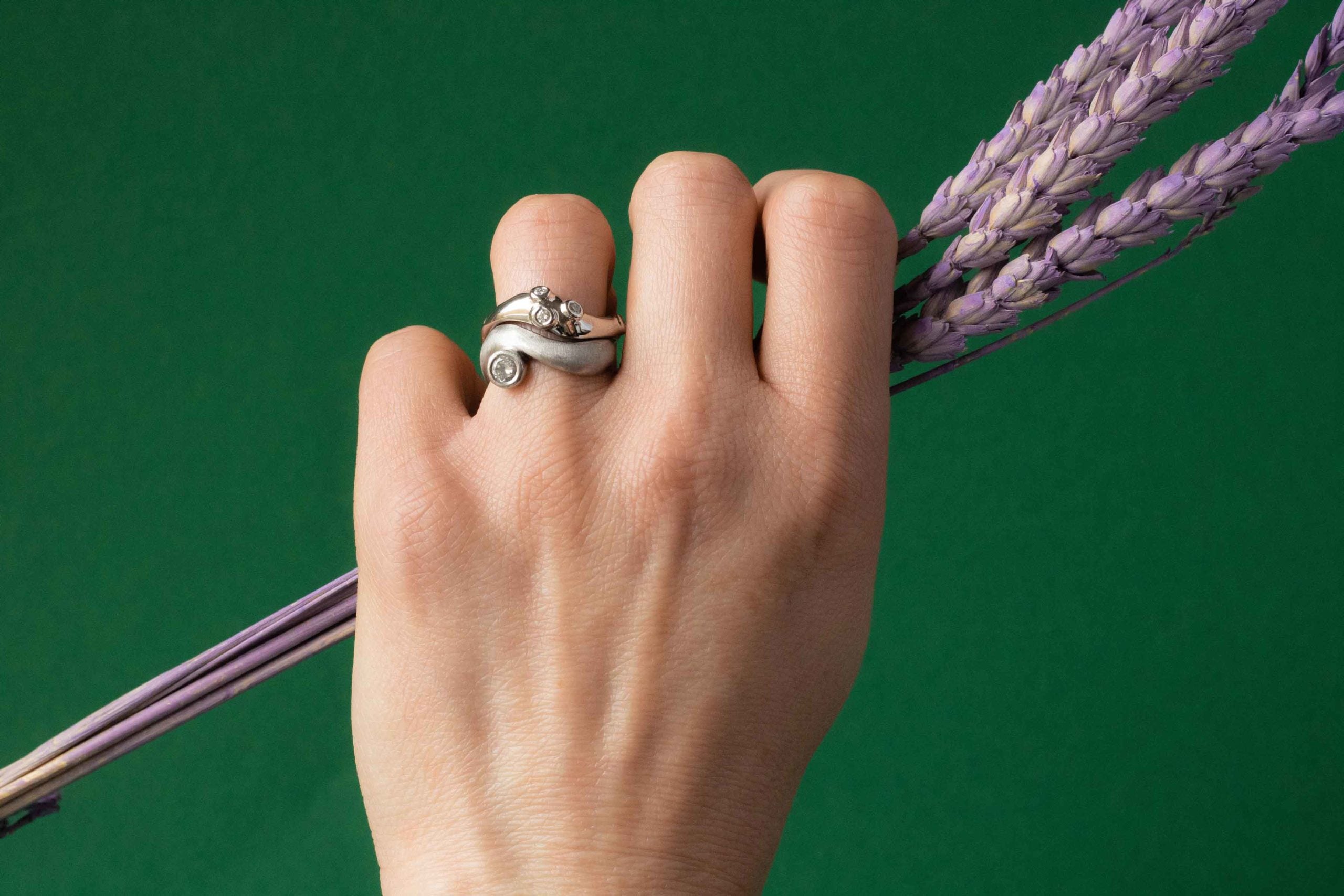 FREQUENTLY ASKED QUESTIONS
If you have broken gold jewellery, old fashioned, that you no longer like or simply no longer wear, I will guide you and design a piece so we can give a second life to all those rings, bracelets, necklaces and earrings sleeping in your drawers. 
Whether it is yellow, white or pink gold, I can inspect them and we will see together the best way to transform them into a design especially made to your taste.
Recycling a jewel means giving a new value to a precious piece but also saving a noble and rare material. As a designer/maker, it is one of my fundamental values to be a responsible player in terms of sustainability and recycling.
We don't remodel silver pieces at the moment. You could ask your local jeweller if they can help you with this.
Yes, I can source metals (white/yellow/rose/red gold) and stones (ruby, sapphire, emerald, diamonds ..) and make a special design for you. I always make sure my customers get the best quality of metal.
The 15 mins discover call is free. The fees for the next consultations are €37 per hour. If you decide to go ahead with your commission, these fees will be included in the price of your commission.
It depends on the design you will choose and how much gold you have. We can discuss this together.
Custom work demands a premium price point because I'm taking the time to design, make models, source materials, and even buy tools specifically for one client. This process is very time consuming and requires patience for each step of the process, skills and attention to details. Sometimes the design process and back and forth conversing between designer and client can take a while. My prices start from 900 euros. The prices depends on the design complexity, the time spent to make the piece, material we use or needs to be added to a piece.
The remodelling process involves a lot of work. Even if you already have metal and stones, I need to make sure you have enough metal to make your piece. This process is also time consuming and requires a lot of preparation and follow up with customer. The remodelling process can be cheaper than creating a piece from scratch however it is not always the case. Remember that remaking jewellery is not always a cheaper option than buying something new, but it is such a personal process!
No, I don't do repairs.  However, if you already have an ongoing commission with me and you need to repair another piece of jewellery, please let me know and I'll see how I can help you. 
The design process takes around 2 weeks (depending on the complexity of the design). Once the design is approved, it usually takes from 6 to 8 weeks to make the piece.  If for some reason, you need to get your piece quicker for a special occasion, do let me know and I'll see what I can do.
Yes I can! This will be at an extra cost. Once we discuss about what you would prefer, I can start working on the next set of design.
Each piece is unique and made to order for each of my customers. However, I can make a similar piece, with different material or stones and with a slight change in the design. Just sent me a quick email with the design you like, the stones and metal and I will send you a quote.
It is great to get inspired by a piece. If you've seen a piece of jewellery that you really like online, please let us know what you like about it.  This is a great way to understand what you want, whether it's the style and colour of the stone or the type of setting.
That said, I will not copy someone else's work. If you're looking to replicate exactly the piece that you've seen online, I recommend you to find the designer and order directly from them.